OUR HR VALUES
Strong values, defended by each and every employee of G&F CHÂTELAIN
Integration
We hold in high regard the alliance of our employees and grant a warm welcome to newcomers. The well-being of the men and women who make up our company is at the heart of our priorities.
Family spirit
The story of G&F CHÂTELAIN is one of entrepreneurial families, for whom loyalty is very important.Every employee of the company is held dear as a member of this "big family» and are attentive to their journey with us.
Respect
Respect is a central value for our group: respect for others, for oneself, for the material and the environment. .  All employees are welcome to freerly express ideas, observations and much more.
Employee testimonial
Working for CHÂTELAIN is to be respected as an important part of the company. I am passionnate about my job, the workshops are modern and my point of view is always taken into consideration.
Employee testimonial
I was surprised when I started working at CHÂTELAIN: everybody greets one another in the hallways, even if we haven't met me yet. Everyone says hello with a smile.
Humility
Humility is character trait of our teams. It allows each person to express his or her point of view; group synergy overrides individuality.
Honesty
Honesty is a key value allowing long-term quality relationships with our clients, colleagues, and partners. Honesty leads to our ultimate quest for excellence.
Communication
Whether transmitting or receiving information, it is essential that the information has been clearly expressed and understood.
Our manufacture encourages suggestions. The participation of all employees is highly encouraged. Each proposal is taken into consideration and duly answered, and often becomes reality.
CONTINUE TO DISCOVER CHÂTELAIN
Let's think, design, create and manufacture together - for the watchmaking of tomorrow. Apply here and keep the precious know-how of watchmaking alive.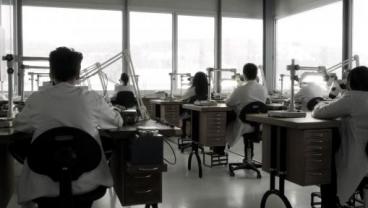 Do you want to get ahead in your career? Need to set your eyes on new horizons? G&F CHÂTELAIN offers quality professional training and development.